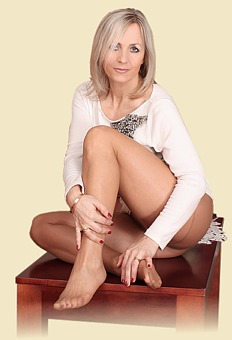 Welcome to Ala's feet world
Feet, feet, feet! is there anything sexier than a delicious pair of female feet? If you have no doubt that female feet excite you and bring you extreme desires you've found the right place. I want to invite you into the world of Ala's feet; the world seen with the eyes of my devoted husband, my slave and my photographer. I know how much my feet turn men on, I know how to use them and i know what I can do with them... I love it! ! can only put in these two thoughts: foot tease and foot domination.

There are many websites revolving around foot fetish themes, but a real foot lover will easily recognize the one that is hosted by a woman with a real foot passion and a true love of foot fetish. Those are the things you are going to find on my site: Feet in nylons, feet in pantyhose, feet in socks, bare feet, foot worship, foot jobs, shoe jobs, face standing, food crushing, shoes dangling, polished toenails and pedicures, foot massage, trampling..

See you inside!